I am happy to see that there is now a healthier debate between renting and buying in today's market.  Instead of mindlessly buying a home because it is the "right thing" to do people are being more apt to run the numbers before diving in.  A mortgage can become an albatross especially when we have a decade of nonexistent home appreciation.  Buying a home is a much easier decision when home prices rise every year like clockwork but what happens when that appreciation goes into reverse and breaks a multi-generation mantra?  It is probably helpful to run an example in a mid-tier California city to highlight why prices are likely to go lower in the short-term.  Today we'll take another look at Culver City.
Rent at $2,800 or buy for $600,000?
There is a basic rule of real estate investing where you can calculate if a potential property is worth your time and hard earned money.  Look at some hypothetical numbers:
Monthly rent:                    $2,000

Home price:                       $200,000

$200,000 x 0.01 = $2,000 / monthly rent
This is the one percent rule of investing.  If you can yield one percent or higher in this formula the property is worth considering.  There are many other things to consider of course but this is a rule of thumb that many use.  Let us examine a real live case in Culver City from this perspective: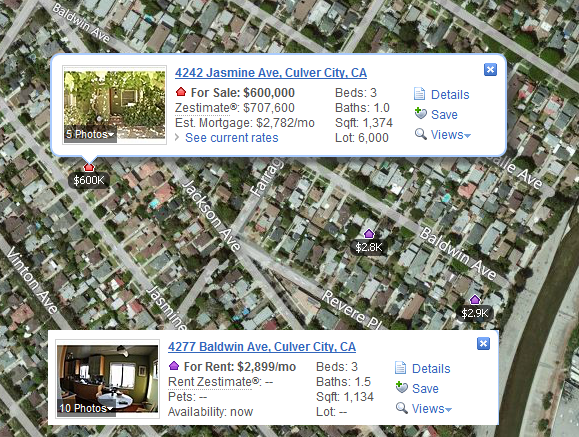 We have a 3 bedrooms and 1 bath home selling for $600,000 and a comparable property a few streets down renting at $2,899 with 3 bedroom and 1.5 baths.  As an investor, there is no way you would buy the property but of course this isn't always the metric used to evaluate properties especially when you have emotions running rampant.  For example, for it to be a good deal you would expect the $600,000 home to generate $6,000 a month.  You can find properties across the US for $100,000 that will yield $1,000 per month.  So you can understand if you were an investor, would you want to buy this home for $600,000 that is likely to get $2,899 in rent or would you rather receive $6,000 a month in rents?  The answer is rather obvious on this metric from an investor point of view.  However I doubt any serious real estate investors are buying in Culver City.  No need to look too far since you have investors buying in places like the Inland Empire trying to run these numbers.  So we'll assume someone is buying this home as a starter home.
Let us continue with the numbers on the above scenario.  Some seem to think that the numbers work well for everyone but the assumption of the mortgage payment is really too optimistic: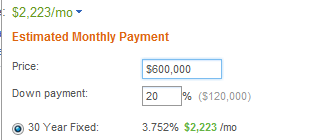 This assumes someone is going to put $120,000 down.  Most of the people that have that kind of money are typically looking for a better home instead of a starter Culver City property.  Look at the interest rate in the assumption as well and how insanely low it is.  What about taxes and insurance?  These are best case scenarios and yet the property is having a hard time selling: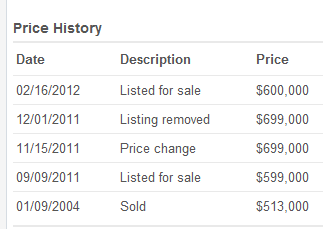 The above home sold for $513,000 in 2004 and we were already solidly into a bubble at that point.  They tried selling it at $699,000 and no one bit.  The current list price is now $600,000.  A household would need at least $200,000 a year in income to purchase this home.  Do you think a household making $200,000 a year with $120,000 in cash is going to buy this starter home?  Obviously others are seeing the same thing hence the price cuts.
Culver City is littered with distressed inventory.  144 homes are in some stage of foreclosure:
Only 12 properties on the MLS are listed as foreclosures for the city!  So the charade continues and the shadow inventory keeps leaking out all the while some would want you to believe the market is healthy.  In mid-tier California cities prices will continue to go lower.  Those that understand the math realize that the monthly nut is just a way to lure people into a massively overpriced asset and the Federal Reserve has been crushing the US dollar all for the sake of housing.  How well has that worked out?
Did You Enjoy The Post? Subscribe to Dr. Housing Bubble's Blog to get updated housing commentary, analysis, and information.